restore necessary collagen while also helping the body restore its own.
Here's something you probably didn't know: Collagen comes from the same Greek word that means "glue." Collagen accounts for 70% of our skin, hair, nails, muscles, bones, tendons, blood vessel, and digestive system. After water, collagen is the most plentiful substance in our bodies.
Starting in our early twenties, we lose about 1.5% of our collagen every year. What this means is dried, wrinkly skin; painful, worn out joints; and constant fatigue. Not only that, but our hair starts thinning and we can experience painful digestion.
But, there's a problem with most other collagen proteins. Yes, they give extra collagen, but do they help regrow internal collagen? Absolutely not. Once you stop taking their collagen, the symptoms return because that becomes the body's only source of collagen!
Go2 Protein is different — by adding gotu kola, Go2 Protein can restore necessary collagen while also helping the body regrow its own, just like it was twenty years old!
Go2 Protein Is Like An Investment With Returns On Vitality.
Like a good return or making money on interest, Go2 Protein gives collagen while helping you build your own!
Collagen is the most abundant form of protein in the body and has been known to give more beautiful skin, support thicker hair, relieve joint pain, and even improve digestion. So why not go out and buy some bone broth or some other collagen protein? It's because we combined collagen with gotu kola, an ancient herb that makes this the best possible investment in your body.
Collagen makes up 70%
of our body's structure.
And it can support thicker hair, healthier skin, and joint pain!
---
Promote More Beautiful Skin
Collagen is the foundation of smooth, vibrant, and youthful skin. A 2014 double-blind, placebo-controlled study on women aged 35-55 years old show a statistically significant improvement in skin elasticity in less than eight weeks. Also, collagen has been shown to help improve skin tone and reduce acne.
Help Relieve Joint Pain
A 2008 randomized, double-blind, placebo-controlled study of over 100 participants showed a reduction of overall joint pain, as shown by six different markers of pain.
May Support Thicker, Healthier Hair and Nails
A study done by international scientists shows that collagen may increase hair and nail strength and prevent breaking. In addition, collagen may help speed up the growth of thick, healthy hair.
Increase Internal Collagen Production
Instead of losing nearly 1.5% of collagen every year, gotu kola is known by research for its ability to support the production and prevent the breakdown of internal collagen. It has also been shown in studies to help tighten skin, reduce cartilage erosion, and improve circulation.
Help Reduce Inflammation
In an article on Forbes, research shows gotu kola extracts have been found to calm inflammation, improve circulation, and reduce swelling. Reduced inflammation can cause a variety of other health benefits, including improved heart functioning, higher immunity, and mental clarity.
Assist Digestive Health
In a 2016 study done by the USDA and the National Science Foundation of China, collagen was found to support problems with the gut, including leaky gut and candida. A separate 2013 study shows people with IBS have been shown to have less collagen in their system than people with a healthy gut.
Simple Ingredients For
Skin, Hair, and Joint Health.
Collagen for Increased Beauty
---
In addition to the research about increased skin elasticity mentioned above, a 2013 study done by the Department of Dermatology of a German University showed collagen can directly improve healthy, glowing skin. This is especially important as we age, because by the age of 60, most of us have lost nearly 50% of our youthful collagen.
Gotu Kola to Promote Internal Collagen Production
---
One study from 2014 showed that when the subjects consumed gotu kola, joint inflammation, cartilage destruction, and bone erosion decreased — all effects that are correlated with increased collagen. Another study shows gotu kola may have the power to inhibit a group of enzymes that break down collagen, helping it to stay for longer within the body.
Collagen for Reduced Joint Pain and Better Digestion
---
Collagen comes from the Greek word for "glue," which is evidence enough to say that collagen may help keep our bodies healthily intact. With regards to joint pain, collagen has been shown in study after study to reduce pain and symptoms of joint pain and osteoarthritis. The same goes for digestive health, as science shows collagen may help improve the stomach lining, which can help reduce inflammation and improve digestion.
Gotu Kola for Holistic Health
---
With all the research available, gotu kola can be seen as an herb that can promote holistic bodily health, both internally and externally. Gotu kola has been shown in multiple studies to help calm inflammation, relieve joint erosion, and reduce ankle swelling. On top of that, other studies have shown gotu kola may be able to help tighten skin, improve wound healing, and even smooth out varicose veins!
Promotes More Beautiful Skin
Supports Thicker, Healthier Hair
Helps Reduce Inflammation
Enhances Strength of Nails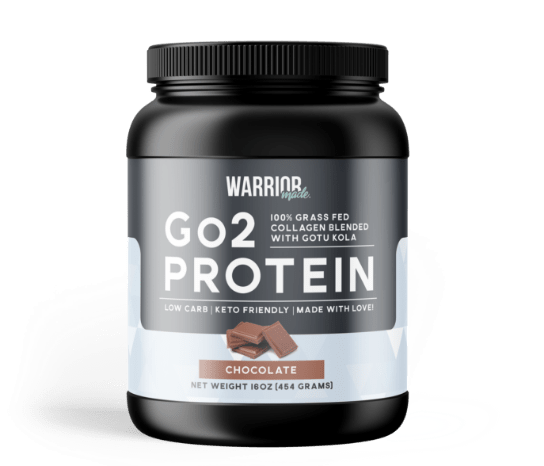 Helps Relieve Joint Pain/Erosion
Increase Internal Collagen Production
Assists Digestive Health
Smoothes Varicose Veins
Enhance Skin and Joint Health!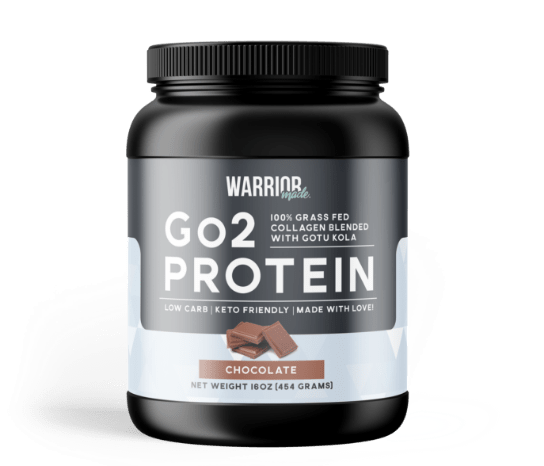 Feel 200% satisfied or we're sending your money back, every cent. With our Warrior Strong 60 day money back guarantee, you can try a whole bottle and still get your money back!
Buy Now
The mission of Warrior Made is to help people live healthier and happier lives. Our goal is to become the #1 body transformation website by providing everything necessary for a fast transformation, including proper workouts, healthy recipes, and high quality products. With this as our foundation, we source only the finest ingredients in order to make the best possible products that we not only use in our own lives, but also our children's. After spending over a decade in the health industry, we know about all the misinformation and distrust that goes on out there. Which is why our goal is to prove that we're different. Each of our products are designed for real people to see real change in their life, because we wouldn't want anything else for ourselves and our kids, either.
How to Use?
Easily add to your daily drink of choice — 2 scoops, once a day.
Coffee, water, smoothies, etc.
Include with wholesome foods like oatmeal, soup, and baked goods!
Stir to make sure all protein is mixed.
Look and feel renewed!
Who is Go2 Protein for?
According to research, collage production begins to decline after our early twenties, and most of us have lost nearly 50% of our collagen production by the age of 60 years old. What this means is almost everyone in the world can benefit from taking Go2 Protein.
More specifically, Go2 Protein is designed for those looking to rediscover glowing skin; regain thick, healthier hair; reduce their joint pain; or increase overall gut health.
Because everybody reacts differently to different things, we recommend checking with your doctor before proceeding with taking any supplements.
Does this work with the keto or paleo diet?
Yes, Go2 Protein contains very minimal amounts of carbs, meaning it's ideal for the keto diet. It also only uses monk fruit as a natural sweetener, which makes it perfect for following the paleo diet.
How does collagen help my skin?
Collagen comes from the Greek word for "glue" because it's been known for centuries as the structure that holds our body together. It helps smooth out wrinkles by providing structure for plush, moisturized skin, like the legs to a table or a house made out of bricks.
Why is there gotu kola added? Why not just collagen protein?
As we age and stop producing collagen ourselves, we can rely on an outside source. And, if we ever stop taking collagen, we lose any progress we made. Gotu kola is shown to improve collagen production and stop collagen breakdown, which can help us have even more collagen in our bodies and not rely on a supplement forever.
How much Go2 Protein do I take, and how often?
The recommended dosage for Go2 Protein is two(2) level scoops mixed in with food or drink, every morning!
When will I be receiving my Go2 Protein in the mail?
With our high demand we work our hardest to get Go2 Protein wrapped and shipped within 24-48 hours. Once we get it in the mail, it should take anywhere between 5-7 business days to get to your doorstep!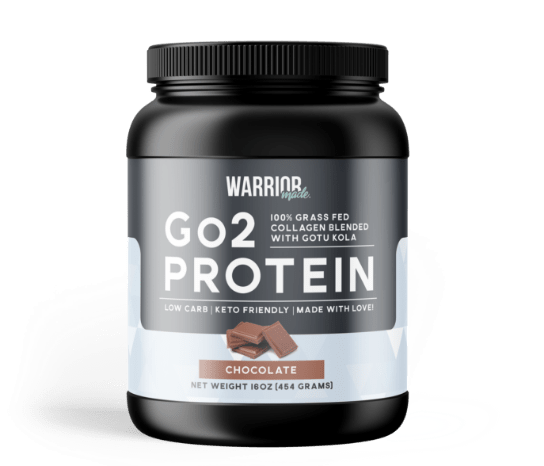 Feel 200% satisfied or we're sending your money back, every cent. With our Warrior Strong 60 day money back guarantee, you can try a whole bottle and still get your money back!
Buy Now